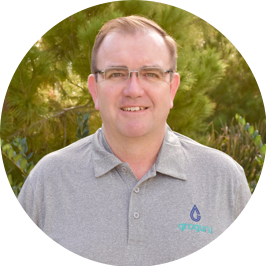 David Sloane, PhD
Chief Agronomist
Dr. Sloane is an expert in irrigation agronomy with broad experience in a wide range of crops including row crops, tree, vine and specialty crops. He has worked in irrigation agronomy for over 20 years, including 10 years in the United States.
Dr. Sloane was formerly the Principal Agronomist at Metos (the US arm of Pessl), and at AquaSpy.
In addition to his expertise in irrigation agronomy, Dr. Sloane as become a specialist in business development in the agriculture space. He has focused on the introduction of original irrigation and environmental measurement concepts to new markets both domestically and internationally.
Dr. Sloane has several years of experience in establishing dealer channels, management and support of channel sales and wider market education. he is customer oriented, organized and focused on providing outstanding training and support to enable farmers and growers.
As part of the GroGuru leadership team, he adds significant value through deep agronomic expertise and plays a substantial role in strategic decision making.
Dr. Sloane earned his Ph.D. in Agronomy from University of Adelaide in Australia.